Regular price
$30,250.00 USD
Regular price
Sale price
$30,250.00 USD
Unit price
per
Sale
Sold out
Entirely hand made wooden humidor hand carved and finished in 18k Gold & Urushi lacquer in Japan following centuries old Urushi craftsmanship.
Only one unique piece with Urushi master certificate.
Urushi lacquerware's properties are that it strengthens and hardens over time making the overall piece very solid. In addition, it captures the light which reflects and all colours blossom in a special way making the overall piece a truly sensational attraction in any room.
120 coatings of Urushi lacquer, a 6 month process, which takes place throughout the summer season.

Capacity: upto 125


Dimension: 40cm x 30cm x 16cm
Tray in perspex + wooden frame & handles

Neat lock and neat hinges

Boveda sachet holder and humidity sachets

Furnished with Xikar hygrometer + wooden frame

Bosquet Paris gift box
Certificate of Authenticity and Origin, numbered 01/01 - only one single piece made.
View full details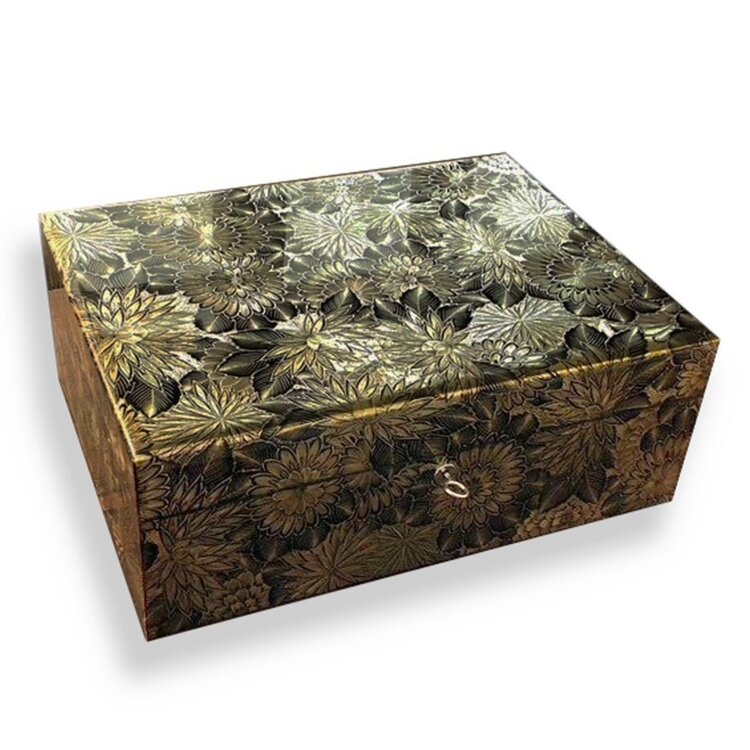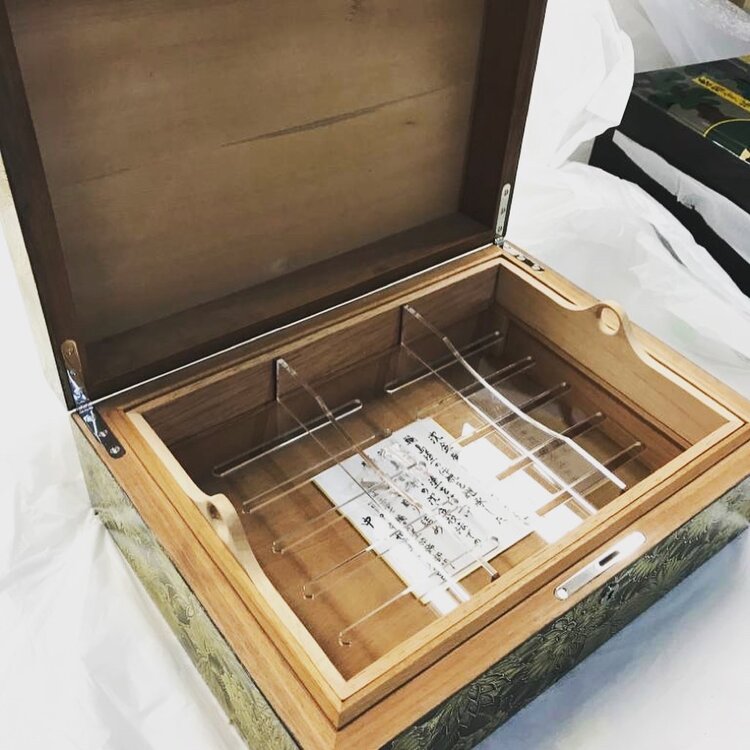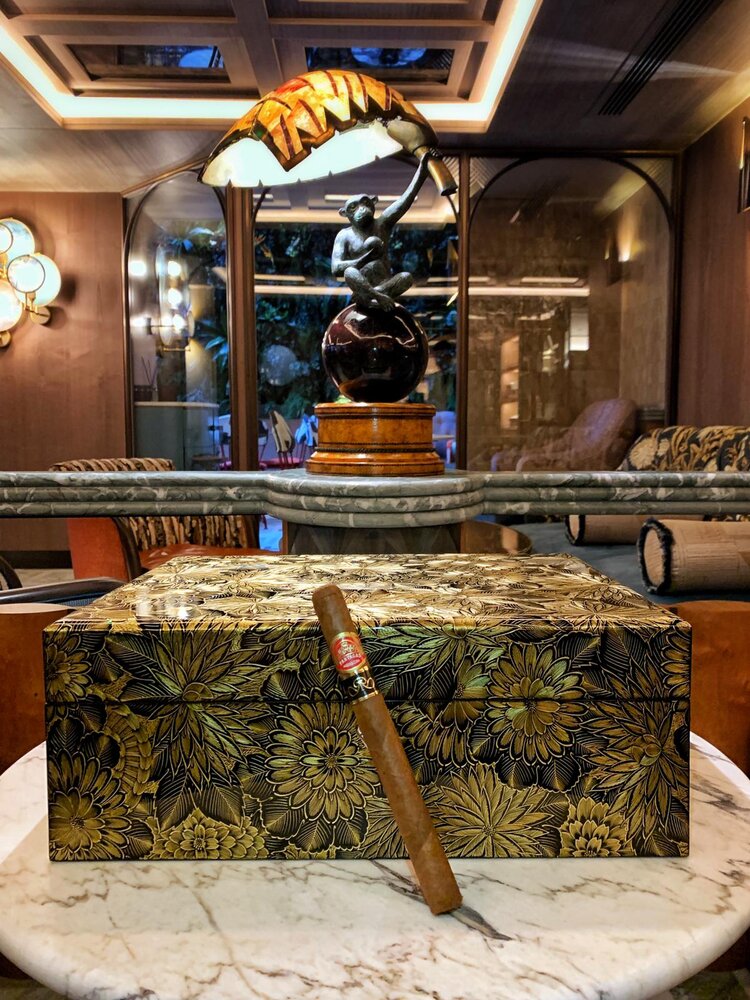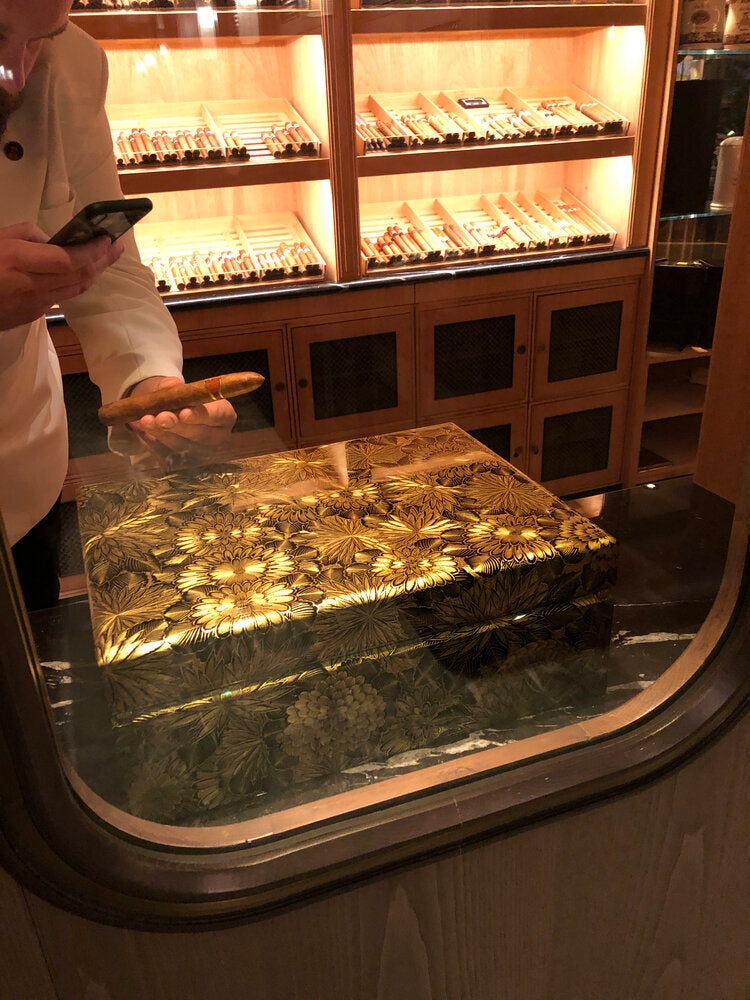 Collapsible content
Japanese Urushi Lacquer

About this item:

Color: Gold inlay

Material: Wood, Urushi lacquer

Size: 40cm x 30cm x 16cm

Capacity: Up to 125 cigars

Introducing our Japanese Urushi Lacquer Humidor, a true masterpiece meticulously handcrafted and finished with 18k gold inlay. This exquisite humidor exemplifies the centuries-old Urushi craftsmanship of Japan, showcasing the perfect blend of tradition and luxury.

With 120 coatings of Urushi lacquer applied over a period of six months, this humidor is a testament to the dedication and precision of the Urushi masters. It undergoes a meticulous process during the summer season to ensure the lacquer achieves its optimal strength and brilliance.

The humidor boasts a generous capacity, accommodating up to 125 cigars, making it a perfect companion for any cigar aficionado. It features a tray in perspex with a wooden frame and handles, providing easy access and organization for your cigars. The neat lock and hinges add an element of elegance and functionality to the design.

With its captivating play of light and vibrant colors, this humidor becomes a sensational attraction in any room. It features a perspex tray, neat lock, Boveda sachet holder, and Xikar hygrometer. Complete with a Certificate of Authenticity and Origin, this numbered 01/01 masterpiece is the ultimate collector's item.

Key Features:

Handmade wooden humidor finished with 18k gold inlay and Urushi lacquer
Captivating reflection of light with vibrant colors
Solid construction with 120 coatings of Urushi lacquer
Generous capacity for up to 125 cigars
Tray in perspex with wooden frame and handles
Neat lock and hinges for added security and elegance
Includes Boveda sachet holder and humidity sachets
Furnished with Xikar hygrometer and wooden frame
Presented in a luxurious Bosquet Paris gift box
Comes with a Certificate of Authenticity and Origin, numbered 01/01

Shop now to own this one-of-a-kind piece of artistry and preserve your cigars in a luxurious style.
FAQ
What is Japanese Urushi lacquer?

Japanese Urushi lacquer is a traditional and highly prized lacquer that is derived from the sap of the Urushi tree. It is known for its exceptional durability, unique gloss, and rich colors. The lacquer is meticulously applied to create a protective and beautiful finish on various objects, including our products.
How should I care for Japanese Urushi humidor?

To care for your Japanese Urushi products, we recommend gently wiping them with a soft, dry cloth to remove dust or fingerprints. Avoid using abrasive materials or harsh chemicals, as they can damage the lacquer finish. Additionally, it is advisable to keep the products away from direct sunlight and extreme temperatures to maintain their longevity.
Are the colors of the Japanese Urushi products natural or dyed?

The colors of our Japanese Urushi products are achieved through a combination of natural pigments and the inherent properties of the Urushi lacquer. The rich hues and tones you see in our products come from the skillful layering and application of the lacquer, highlighting the beauty and depth of the natural colors.
Can I personalize or customize Japanese Urushi humidor?

Yes, we offer personalization and customization options. Please reach out to our customer support team or refer to the product page for specific details on customization options, such as engraving or custom colors. Our team will be happy to assist you in creating a unique and personalized piece.